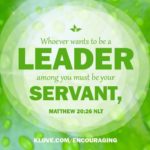 In the world, we talk of  "climbing the ladder of success." Leaders in the secular world are often strong and gifted individuals, achievers who have found success or distinguished themselves in some way.  Often they are self-promoters who set goals for themselves and strive to achieve them.
But we know that the Biblical measure of success in no way resembles that of the world.  In fact, it is often the polar opposite.  The Bible says that it is the humble who will be raised up; the true leader is a servant. Jesus–submitted, humble, serving and loving–is our role model of true leadership.
When looking for leaders in your women's ministry, it may be tempting to look at those with natural leadership skills, articulate communicators and results-oriented achievers.  But may I suggest that the first place you look is not up–at those who flaunt their gifts, demand respect and desiring a public position.  Instead, look low.  Find someone who is already serving your women. What woman is showing their commitment to your women by being available and humbly serving in whatever capacity needed?  That is the type of leader you need!