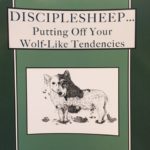 One of our favorite retreats was entitled "DISCIPLESHEEP – Putting Off Your Wolf-Like Tendencies."  The "Mr. Wolf" skits are some of our most memorable.  That is one of the reasons we originally chose that retreat theme to put into book form.
We have now updated the artwork that is included in this book. I think this artwork better illustrates the theme that we are wolves in the process of becoming sheep.  That's what discipleship is–the process of sanctification as we transform into the image of Christ.  At salvation, we are transformed to "sheep" on the inside, but we begin the process of putting off the old man–our wolf-like tendencies–as we are renewed and transformed into the image of Christ. God is patiently working on us and transforming our character, our speech, our habits and responses.  We are putting off that old man and putting on the new man.
Read more about what this book includes here.