Why did we write this series of books?
Our church began having women's retreats back when we were very small and had maybe twenty ladies attending our retreat. Because of budget restraints and limited resources, we did everything ourselves, and basically learned to put on a theme-based retreat from the ground up.
The "Retreat-In-A-Bag" series of books grew out of our desire to make the process of creating a retreat easier for other churches by assembling the key elements for a themed retreat and making them available in one book.  Each book is based on a specific Biblical theme, with a selected theme verse.  In addition to general information which is foundational to the planning of a retreat, the books contain suggestions for carrying the theme throughout the retreat in teachings, decorations and retreat remembrances. In addition, each book contains artwork applicable to the theme, a theme-related Bible study and at least one theme-related skit script with production notes. What makes the series unique is that upon purchase, you may freely reproduce the artwork, the skit script(s) and the study for your use.
Our hope is that the sometimes overwhelming task of planning a retreat will be simplified by using the tools in "Retreat-In-A-Bag" as a catalyst to produce a themed retreat or event that is uniquely your own.  In so doing, you will bless your women and create a wonderful opportunity for fellowship and spiritual growth. The resources provided in these books can be used for one day events or special programs, in addition to retreats.
The heart of this website is to inspire women's leaders as they serve women, and to promote women's ministry within the body of Christ. All profits from the sale of any Retreat-in-a-Bag publication will be used to further the Women's Ministry of Calvary Chapel of Dallas/Plano.
TO ORDER:  Choose the book below that best matches your women's ministry retreat needs.
Steadfast and Immovable (Book 1)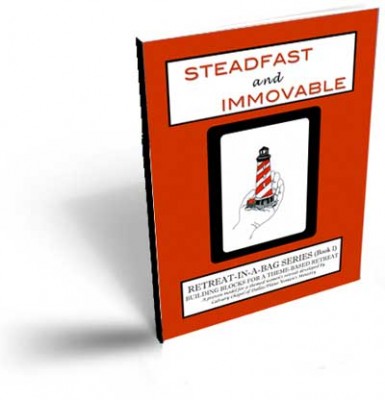 Theme: Like a lighthouse, the Christian life is built on the Rock, the solid foundation of faith in Jesus Christ.  Our purpose is to be a light in a dark world through a life characterized by godliness and good works.
Included in this Book:
A two-act skit – "Lighthouse 101" (seven characters; approx. 45-50 minutes total)
One mini-skit – "Returning to the Basics" (two characters, approx. 5 minutes)
A short reproducible Bible study – "Look to the Lighthouse"
Reproducible artwork as seen at left
Price: $11 (hardcopy) and $10 (PDF)
—————————————————————————————–
We Are the Fragrance of Christ (Book 2)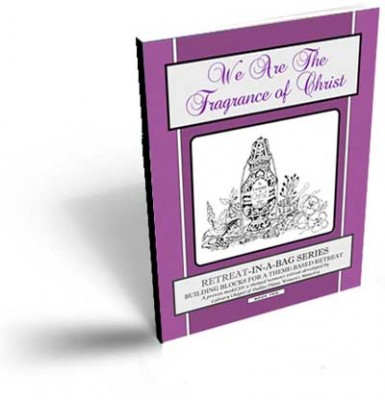 Theme: The Bible says that believers are to be the fragrance of Christ to the world. We release the sweet fragrance of Christ as we love and serve others with the sacrificial love that characterized Christ.
Included in this Book:
A one-act skit – "What's That Smell?" (six characters, approx. 20 minutes)
A short reproducible Bible study – "We Are the Fragrance of Christ"
Reproducible artwork as seen at left
Price: $10 (hardcopy) and $9 (PDF)
—————————————————————————————–
Disciplesheep…Putting Off Your Wolf-Like Tendencies (Book 3)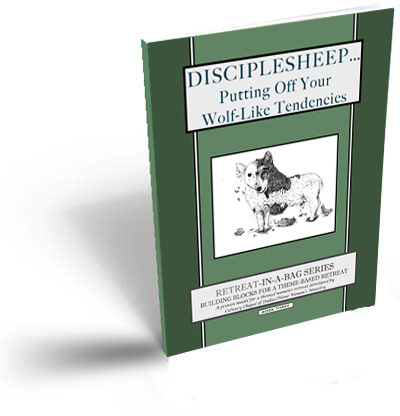 Theme: Using the "sheep" and "wolf" to represent our new man (indwelt by the Holy Spirit) and our old man (the flesh), this theme discusses the sanctification process as believers strive to "put off" the old man and "put on" the new man.
Included in this Book:
A five-act serial skit – "Mr. Wolf's Journey" (first four acts stand alone, and have two characters; final act is optional and has four characters; Acts I, II, III and V are approx. 10-15 minutes; Act IV is 20 minutes)
Two mini-skits – "Get Those Nose Flies Away From Me!" and "Prayer Line"  (approx. 5 minutes each)
A short reproducible Bible study – "Resting in Our Shepherd's Care"
Reproducible artwork as seen at left
Price: $13 (hardcopy) and $12 (PDF)