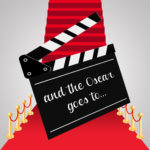 And the Oscar goes to…….
(drum roll, please)
…..
(cut to commercial)
…..
(cue dramatic background music)
…..
(play one more commercial)…..(make sure the correct envelope is in hand)
……
What angst!!  All those poor actors/actresses/directors/etc.!  Imagine the stress and uncertainty they all feel during those pivotal, and probably uncomfortable, hours awaiting the official announcement that will let them and the world know who is, without a doubt, the BEST.  And then what? What if your name isn't called? Awe…..poor babies.  The plight of going home without a prize.  Sad, and double sad!
 Well, here's the good news today and every day….we are of no consequence to the scrutinizing, fickle eye of Hollywood. Woo-Hoo!!  That is good news. How could that be good news?  Well, I'm glad you asked.  Because, even though the "who's who" may never know who we are, we'll never be recognized on the street by autograph-seeking fans, our names will never be announced on national TV as 'the winner'…..God says we're Number 1 – THE BEST – in His book!!  He has given us a prize more valuable than anything the Hollywood Mucky-Mucks could ever hand out!  Not to mention, we don't have to wear Spanx when accepting our award!
Now there is in store for me the crown of righteousness, which the Lord, the righteous Judge, will award to me on that day – and not only to me, but also to all who have longed for His appearing. 2Timothy 4:8